What is Bicar®Z?
Bicar®Z is pure sodium bicarbonate. It is composed of 27% of sodium (Na+) and of 73% of bicarbonate ion (HCO3−). Sodium bicarbonate neutralizes acids and releases CO2. It does not only act as an anti-acid, but it also acts very efficiently, in particular, as a buffer.
To understand and verify the efficacy of Bicar®Z for ruminants, pigs, poultry and in shrimp culture, we have been conducting studies with independent experts for over 40 years.
Learn about the importance of sodium bicarbonate supplement in animal feed.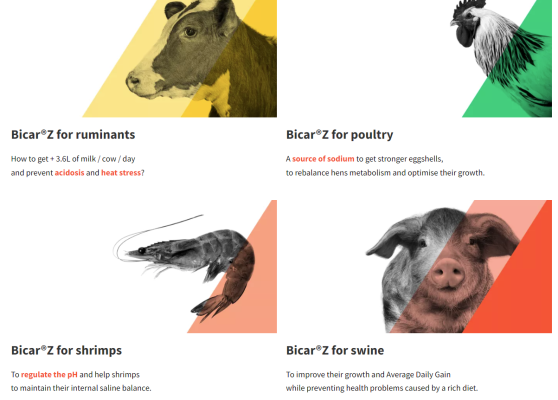 DESCRIBE
Uses:
– Water treatment, increase the alkalinity of shrimp pond water in the rainy season, the amount of rain water causes the shrimp pond water to decrease pH.
– Stabilize pH in shrimp ponds because Sodium Bicarbonate NaHCO3 increases alkalinity, stabilizes and maintains alkalinity for a long time.
– Maintain water color due to heavy rain makes the pond cloudy, so it is necessary to use Sodium Bicarbonate NaHCO3
– Along with other minerals, Sodium Bicarbonate NaHCO3 enhances electrolytes, adds minerals to help shrimp harden shells.
Dosage:
– To increase alkalinity: 15 – 20 kg/1000 m3.
– Stabilize alkalinity in water: 5-10 kg/1000 m3, 5-7 days/time depending on the age of shrimp.
– Using 10-15 kg/1000 m3 can increase alkalinity to 10 mg/L.
Note:
– Should be handled when it is cool or latetime in the evening, divide and handle several times 1 to 3 hours apart so that the shrimp is not shocked by using a lot of alkali. – Should be combined with Lime or Dolomite to increase the effectiveness of alkalinity in the pond.
– The treatment dose can be increased or decreased depending on the alkalinity in the pond. If it rains a lot, in addition to increasing alkalinity, it is also necessary to increase the salinity of the water.